2023-2024 DACC Foundation Scholarship
The scholarship fund was established by the trustees of the Defiance Area Chamber of Commerce Foundation, Inc. who realize the importance of higher education. This non-renewable scholarship will be awarded annually to be used for post-secondary education to the scholarship winner who will be attending an accredited educational institution. There could be up to two $1,000 scholarships awarded annually, at the discretion of the Scholarship Committee. The scholarship will be payable directly to the college or university of the student's choice.
Eligible applicants include all chamber members in good standing, member's employees, employee's spouse, and employee's dependents who are accepted at an accredited university or college pursuing a degree, certification, or license.
The scholarship application deadline for 2023-2024 was March 31, 2023.
2022 - 2023 Scholarship Recipient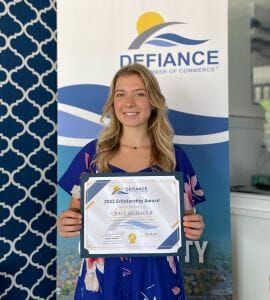 Grace Rittenour